With the new year now underway, many will be setting their 2018 strategy and one key part of many plans for 2018 will include Corporate Wellness.
Based on reporting provided by the Australian Government in conjunction with many other Australian Businesses already underway with their own journey, many kicking off the process will expect to see improvements in reduction of sick leave taken, improved staff morale along with increased efficiencies in work output.
If you are looking to kick off 2018 with your own Corporate Wellness Program here are Subnet's 10 key points to include to maximise your own results.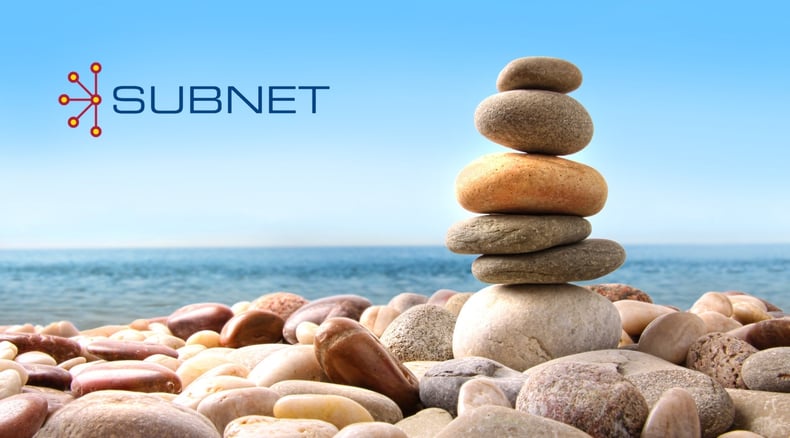 #1 Incidental Activity
defines small incremental improvements in overall activity during the day. This might include walking up the stairs instead of taking the lift, jumping off a bus stop early, or cycling to work. The trick is to make it fun so that you think of movement as an opportunity to reset instead of an inconvenience.
#2 Standing Desks
have seen a sharp increase in use over the last few years with many reaping the benefits of improved lower back health and weight reduction (studies have shown you may burn up to an additional 600 calories a day by standing over sitting.) In addition, Subnet employees have noticed an incidental benefit of standing desks, a greater likelihood of more face to face discussion as those at standing desks were 72% more likely to walk to catchup with a colleague face to face, over phone or email based communication. When considering the purchase of a standing desk, ensure you factor in the additional cost of a standing mat and monitor risers.
#3 Increased Work / Life Balance
is a key factor in improving the return of your employees, gone is the day that anyone works 9-5 without thinking about and doing work after hours, or starting early or finishing late. Through accomodating a better balance you give time to yourself and your employees to recharge and increase employee retention rates through enabling good staff to stay working when their life circumstances alter and they can no longer perform a full time role.
#4 Mindfulness / Meditation
whilst being practiced for over 1000 years, many still haven't had the chance to benefit from meditation. Through either guided practices on the phone with apps like Calm for iOS, or with a specific practitioner, Meditation provides a clean slate for your mind that will allow room for creative thought and complex problem solving in under 10 minutes of meditation. From my experience Meditation is one of the most beneficial practices for the least input and the greatest results.
#5 Employee Positivity
is driven through many of the other practices outlined in the top 10, but is the one that will most significantly contribute to the increased work output. Happy employees are happy to work harder, are more likely to go out of their way to assist the business and others around them, and will positively impact many cultural factors. Adversely unhappy employees will white-ant the organisation faster than almost any other factor, destroying the culture in their wake.
#6 Smoking and Fitness Policies
are equally beneficial to the organisation, through reducing smoking in your organisation will save not only the health and wellbeing of your staff, but will increase employee productivity by regaining those lost minutes for each smoke break. Fitness policies should enable your staff to have time within work hours to improve their overall health, whilst this may be in their lunch breaks or even an early morning walk these goals will improve the overall work output and quality.
#7 Healthy Snacks on Hand
provides the employees nutritious and low GI fruit and snacks which will enable them to better maintain their work levels and energy. Whilst this doesn't have to be provided at no cost, many low cost items can be purchased and an internal Deli setup with an honour system for employees to quickly access a snack when required. Within Subnet we have even utilised an online payment system from Square which allows employees to paypass their funds directly from their account.
#8
Making Fitness Fun in a Group
is a key enabler of Corporate Wellness in the organisation, by having multiple people involved you achieve the necessary momentum to really change the organisation. Like the Incidental Activity, this can be simple low impact ways like having a Standing Meeting over a seated one, or even better having a walking meeting for things like one on ones or constructive feedback. Within Subnet we started an initiative called 'Walk the Block' where we can ask a co-worker to do a quick 5 minute walk around the local block to check in on them to see how they are going on a task, or within their life.
#9
Create your baseline
to set your starting point, which will allow you to measure any improvements or tweak the program moving forward. This will be critical if you want to analyse the business based benefits of the program as opposed to the qualitative measurement of general 'gut-feel' improvement. This quantitative-based analysis will enable to create future Corporate Wellness Budgets and to justify the initial program.
#10 Leadership is top down
as with any program implemented within a business, this needs to not only come from top down, but have the leadership directly involved in the program to ensure engagement from the entire business.
Next Steps
If you'd like to find out if Corporate Wellness is the right option for you, get in touch with our team for expert advice.
If you enjoyed this article, you'll also love our FREE Corporate Wellness Self-Assessment – download it today.
Your employees are the greatest trump card of your company. Keeping them healthy, stress-free and relaxed at all times will make them more productive, and it will also create a more pleasant working atmosphere for everyone. As a result, your profit will go strikingly high, and you will have a motivated team of employees who love and care about your company and are happy to work and be a part of it, too.

For more useful tips and ideas on how to enhance employee wellness, check out these: 149 Easy Steps to Employee Wellness