Is it a sign of being a Baby Boomer / Gen X'r or a work ethic gone awry?
I have met many business owners or senior leaders over the years that have had the same issue with a personal drive that says 'doing your job right' equals working longer and harder than any of the other employees. I have found this drive also means feeling a sense of guilt of you actually do have a day off sick or take personal leave.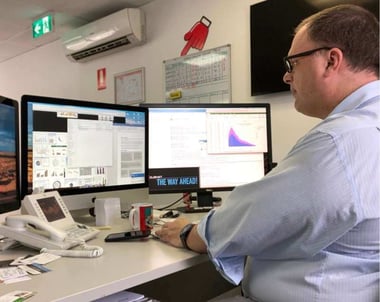 3 Screens, 11 hours a day and still not enough time.
After re-evaluating my life, after another sick day caused by a couple of weeks of 3 or 4am starts, I struck an epiphany.
I found that the vicious cycle was not only hindering my personal life and the quality of my work, but something that I hadn't noticed before, it was directly affecting my staff.
Not any of my personal tasks, as I was able to get my work done in the required times. However, staff noticing my early starts / late finishes and skipping lunch saw this as what was expected from each of them. This negatively impacted overall staff sick leave and morale, which isn't a great way to run a business.
So a change was imperative. A big change that would fundamentally impact not only my life but the business in positive ways. After many hours of research I hit upon a government study that found the dramatic improvement in work life balance, employee satisfaction and reductions in sick leave and absenteeism, which returned over $5 for every $1 invested. The answer was clear, Corporate Wellness.
So I have now put my money where my mouth is, and have taken action to improve the Subnet business and hopefully along with it many of you. Not only that, I am going to let you know exactly how it is working for our business through these blogs. The plan is to track both my progress, along with the outcomes that we see both positive and negative for our overall team. A pull no punches, no nonsense, or what the team at Subnet like to call Courageous Conversations' about what we see, or dont see.
I'm not gonna lie, this so-called 'baseline' was tough!
Our first step (no pun intended), as with any new initiative, is to measure the current state of play so that you can quantify any difference moving forward.
We kicked off our Corporate Wellness strategy with the Subnet Corporate Wellness HealthCheck. This consultative report analyses sick and annual leave, employee satisfaction, tools and wellness processes available to staff and the teams they work in, to provide an overall Corporate Wellness Rating for the organisation.
In my case, I also had a personal baseline generated to see my specific improvement during the course of our initial program. Whilst this isn't about losing weight, or improving strength and endurance, I'm hoping to see a little of each of those based on improving my overall work life balance to include not only exercise but also family time.
Small steps, but hopefully to a cultural change for Subnet into 2018, in line with many exciting changes for the overall business will not only improve our staff but their interaction with each of you.
---
Blog: Subnet Corporate Wellness, Day 1
Read More: Subnet Corporate Wellness, Day 8
Reference: Subnet Corporate Wellness announcement on LinkedIn
Source: Brett Lodge, Managing Director.