As Subnet are now heading into our second month of our Corporate Wellness initiative, I figured now was a good time to look at what we have achieved and what has failed in our journey so far.
Staff Program Engagement: Medium-High.
We have set a few initiatives within the business over the last few months including more walking / standing meetings, off-site strolling strategy sessions and even personal self assessment of key staff, including a thorough baseline fitness assessment. All of these things required a high degree of input from staff, and I feel that we have definitely started a movement. We still need to make sure more of the entire team is on board (which is difficult with any new program with a team of over 40 staff).
Best practice work environment improvement: High
As you have seen in older posts, I have aligned investment from our business into Corporate Wellness items to hopefully drive the improvement into our efficiencies, work output and improved mindsets. To this end we have purchased and installed another 6 standing desks (taking it to over 35% of staff using standing desks) including me moving from fixed and sedentary to standing and mobile, but more on that later.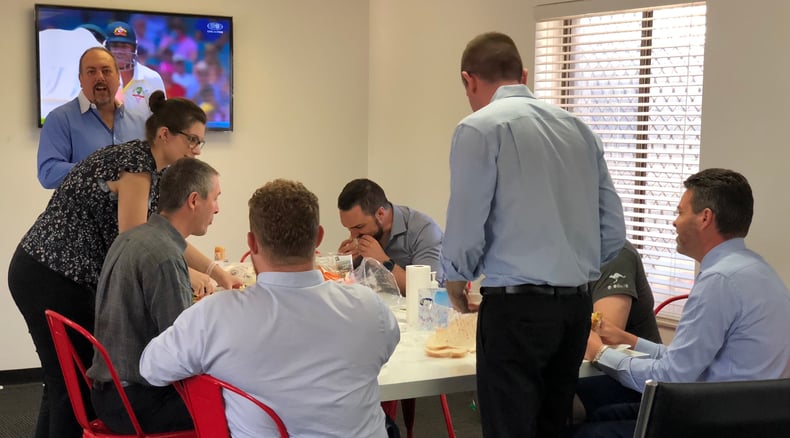 We have also made some changes to the layout of the office to have a better inside lunch area for shared lunches on the days over 35 or under 15 (we still have our very popular breezeway that is undercover for days in between) which has been a big hit, with a few deli days where staff from every team put in to get a fresh selection of meats and salad and rolls.
Improved Sick Leave: Low-Medium
Unfortunately based on the short kick off combined with the big period of annual leave it has been hard to ascertain any real savings or improvement in sick leave balances. We have discussed incentives to convert partial unused sick leave balances into annual leave both as an incentive for the end user as well as a benefit of the business for leave liability.
Cultural and Morale: High
Even over the short period of time, and potentially coloured by the Xmas period, we have seen a noticeable improvement in the overall business morale. People are more engaged, willing to try something new, focused on the changes within the business and on board with the strategy.
Personal Changes: High
Where do I start, for me I have really been engaging with this program and taking it to heart. Now two weeks in with my standing desk I have noticed that I am definitely more mobile, and dont get into a fixed position when focusing. The down side is that it took a few weeks to get used to the standing position and I had a little soreness in the heals and the knees just getting used to being on my feet for longer periods. This is now subsiding and I am getting better at slight movements throughout the day, but I still see the benefits that out way the slight early day soreness.
I have also finally taken some time to fix some spinal issues caused by stress and seated positions through a combination of chiropractic and physio / dry needling. Both unprovoked professionals congratulated me on the standing desks and suggested that the tightness in my neck and upper back should both lessen with the improved mobility.
From again a personal point of view, I have also seen a lift in my own morale. I believe this has been based on a combination of eating a little more healthily, getting a little more active (after a purchase of a new apple watch, I am actually trying to get all of the rings closed each day), and the increased mobility. In addition, losing 3kg's by the wayside while not being a primary goal, is also going to help with my future plans.
Overall: High
Overall I think we are well underway to changing our business for the positive and for those that want to start their own journey please have a look at the top 10 keys when implementing a Corporate Wellness program in 2018 for ideas and a Free Download of a Self Assessment.
---
Blog: Subnet Corporate Wellness, Day 42
Previous Blog: Subnet Corporate Wellness Day 32
Source: Brett Lodge, Managing Director.